Coenzyme Synthesis of Benzoin
and Oxidation to Benzil
---
2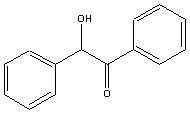 Followed by: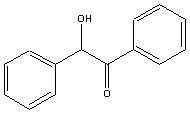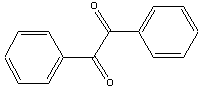 Procedure:
Synthesis of Benzoin
Reaction

Use 50ml Erlenmyer beaker. Dissolve 1.5g of thiamine hydrochloride in 2 ml of water by swirling.
Add 15ml of 95% ethanol and swirl until homogeneous.
Add 4.5 ml of accuse sodium hydroxide solution (40 g of NaOH on 500ml H20) and swirl until pale yellow.
Add 4.5 ml benzaldehyde to mixture and swirl until homogeneous
Scratch inside of flask.
STOPPER and let stand in drawer until next lab, 3/24/01, after spring break

Isolation of Crude Benzoin.
Wash and Dry
Determine m.p.
Synthesis of Benzil
Reaction
Isolation of Crude Benzil
Recrystallization
Wash and Dry
Determine m.p.